posted on 02 May 2009 20:35 by yuri-jujidan in Football
Liverpool star Daniel Agger has revealed that he has agreed his new contract at Anfield.
The Danish defender has been closely tracked by Italian club AC Milan, who over the past 12 months had looked like prising him away from Merseyside.
But Reds boss Rafa Benitez has stood firm over his desire to keep the impressive 24-year-old and he revealed earlier this week that a deal was close.
Now Agger has revealed that his contract has been agreed, although he is yet to put pen-to-paper.
"We are close to a new deal. We have agreed about a new contract," Agger told Ekstra Bladet.
"I don't want to talk about the new deal until it is finally signed."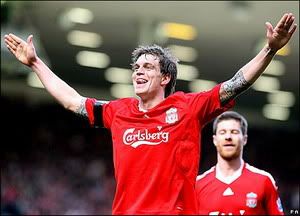 - SkySport
แดนนี่ออกมาพูดเองแบบนี้เค้าก็สบายใจ เหลือเซ็นแบบเดียวแล้วสิแบบนี้
EDIT: เพิ่มจาก lfctv
Manager Rafael Benitez said: "This is extremely good news for Liverpool moving forward and demonstrates our intention to build on the progress we have already made this season.

"Daniel is still young, but with great quality and will be a very important player for us in the years ahead.

"I'm sure there were many other clubs monitoring the situation closely, but throughout our discussions, Daniel made it clear that he wanted to stay at Liverpool and achieve success here.

"I'm delighted we've secured his future at Anfield."
ปล. โบโร่ พึ่งไม่ได้จริงๆ ด้วย อุตส่าห์แพ้ให้แท้ๆ ไม่ช่วยกันเลย