posted on 14 May 2010 03:14 by yuri-jujidan in Football
มีคนปากดี (The Sun เจ้าเก่า) ปล่อยข่าวรักร้าวระหว่างพี่เจิดกับเจ๊อเล็กซ์ แต่งานนี้อิเจ๊ออกมาแก้ต่างแล้ว
'We don't even argue': Football WAG Alex Curran dismisses rumours her marriage to Steven Gerrard has come to an end


Alex Curran has hit back at rumours her marriage to Liverpool and England star Steven Gerrard is over.

Alex, who has two children with Steven - Lilly-Ella, six, and Lexie, three - said: 'There have been loads of rumours going around Liverpool saying that me and Steven have split up, that he's moved to a hotel and ridiculous things like that.

'I'd like to set the record straight. We have never been happier.

'I wouldn't mind [the rumours] but we don't even argue.'
Drogba: Get me Torres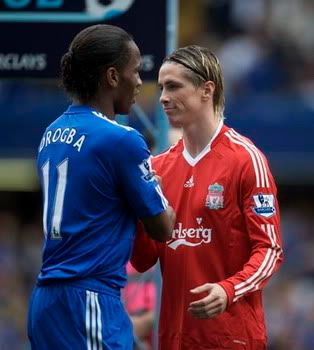 Didier Drogba last night urged Chelsea to build a dream team strike partnership of him and Fernando Torres.
Drogba said: "I have heard the talk about Torres maybe coming in and I would welcome it, of course.
Ancelotti admits he would like to sign Torres
Carlo Ancelotti today gave John Terry the go-ahead for the FA Cup final - and then admitted he would like to sign Fernando Torres.
ฝันไปเถอะย่ะ หล่อน
Pacheco wins Reserves award
The Spanish sensation amassed an incredible 61 per cent of the thousands of votes cast to scoop the accolade, seeing off competition from the likes of Daniel Ayala and Martin Kelly.
-
lfctv
Skrtel's fitness battle
Martin Skrtel is hoping his World Cup dream is still alive as he battles to be fit for South Africa after his metatarsal break.

"It's a big thing for Slovakia to have qualified for our first finals. It's a dream for everyone to get to South Africa.

"We have achieved this dream as a country and now we have to show what we are all about and give our best."

-
lfctv